Geocaching may be something you have heard about or maybe it's completely new to you. Either way, this exciting hobby continues to build its momentum with millions of geocaches around the world.
Geocaching is an outdoor activity that combines treasure hunting with GPS (global positioning system) enabled devices, such as smartphones and handheld devices, with apps that help you locate outdoor caches (containers.) The caches hold a logbook that you sign, and sometimes hold items called swag, that you take and replace with more items.
This is such a fun hobby for anyone who loves to be outdoors and loves adventures. You start by downloading the official geocache app, and from there you create a user name and begin to track your first cache.
Once you find the cache's location, it's up to you to find the actual cache, which is hidden in the area. Some caches have clues to help you find it, and some only give you the coordinates. The cache can be micro (very small,) medium-sized, or larger containers.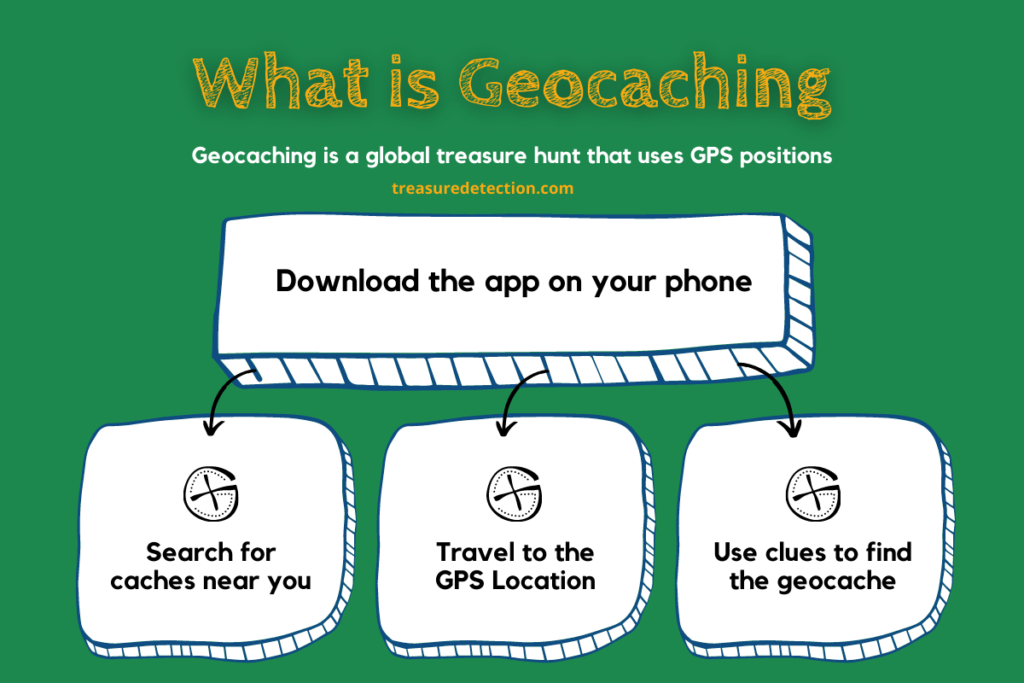 Who Invented Geocaching?
Geocaching found its start in the year 2000. On May 02, 2000, GPS systems were updated to be more accurate than ever before. A person named Dave Ulmer wanted to test the new accuracy of the system, so he made the very first GPS stash hunt, on May 03, 2000.
His stash was contained in a 5-gallon bucket that was partially buried, in which he hid multiple items, including software, 4 dollar bills, a slingshot, and more. He said in his email to the online group he created, "Well, I did it, created the first stash hunt stash"
"Lots of goodies for the finders. Look for a black plastic bucket buried most of the way in the ground. Take some stuff, leave some stuff! Record it all in the log book. Have Fun!"

Dave Ulmer
A man named Mike Teague was the first person to find the stash. Months later, he started to document his and other's finds on his personal web page, and the GPS Stash Hunt mailing list was created. Shortly after, the name stash was replaced by cache, after they decided the word "stash" sounded negative, and the term geocache was coined.
Later another individual would take this new hobby to a new level. Jeremy Irish, a web developer stumbled onto geocaching while researching GPS technologies. He decided to make a hobby site out of it, and geocaching.com was born.
What is the Point of Geocaching?
The original point of geocaching was to test the upgraded GPS systems by starting a treasure hunt using GPS coordinates. However, it quickly turned into a hobby for many people and a website and an app were created to make the tracking and accessibility of the caches easier.
The point of geocaching is to have fun outdoors while searching for hidden treasure. The activity brings people together and has many benefits like exercise, community activity, and more. The rule that Dave Ulmer created "take something, leave something" made it a user interactive activity, where people sign the logbook and sometimes take and leave small items (treasures.)
Since its creation, there have been tons of geocaches hidden all over the world, in fact, there are over 3 million active geocaches! Source. The website and app, allow you to record your findings, leave messages to others, and earn badges.
What is a Geocaching Log?
The original log on the first geocache was a legal notepad tablet, that had some instructions, rules, and space to leave your name and what you took or left behind. It was called GPS Stash #1 Log Book. Since then the logbooks have taken on many forms.
Because geocaches come in multiple sizes, the logbooks can be very small, rolled up into a micro-container, or a long piece of paper. Once you find the log, you sign your username, or name, and write down the date.
Very old caches may have multiple logbooks, and if a logbook becomes damaged from time or weather, the owner of the cache will apply maintenance, by replacing the logbook with newer material.
Geocaching Map
With the geocaching website and app for your phone, a mapping system similar to google maps was created. This mapping system allows you to find caches on the map, find geocaches near you, and caches based on zip codes.
The caches are located on the map as pins so that you can click on them, and easily navigate to them using your phone. Once you find them and mark them as found, the pin turns into a smiley face, letting you know that you have found that cache.
Some GPS devices, such as Garmins, have cache locations built into their software, allowing you to find caches using just your GPS device. GPS devices can be more accurate than using just the app on your phone.
Geocache Symbols and Meanings
The website and app use multiple symbols to represent the different types of caches. The traditional cache is marked with a green cache symbol, which can be found by anyone. Some caches are for the paid subscription only and are marked as such.
Here are a few of the geocache types and symbols explained:
The traditional cache is the original type of geocache. They consist of a container found near the GPS location. They have a logbook, and depending on the size may have SWAG (stuff we all get) which are small items left in the cache. The symbol is a green circle with a geocache box.
Mystery and puzzle caches may have puzzles that you have to solve. Sometimes the puzzles are complex, and the answers will have the information needed to find where the cache is hidden. This symbol is a blue circle with a question mark.
The multi-cache symbol is an orange circle that represents two or more caches. There can be many types of multi-caches, with the first cache giving clues for finding the second cache, and so on.
These are the most common geocaches and symbols, however, there are many more symbols that represent different types of caches such as EarthCaches, letterbox hybrids, event caches, and more.
What Age is Geocaching For?
Geocaching is fun for all ages, however, you will want anyone underage to be under the supervision of an adult. The caches are found in public places, so you will be out and about in areas that may need supervision.
As an adult, I find geocaches to be exciting and fun. They help me get out of the house, get exercise, and lets me have fun with friends, family, and loved ones. I still get just as excited with a new geocache location, as I did on my very first find!
I have also taken younger family members with me and we all have a blast, learning about new areas, new things, and trading swag items for items. I still have my very first piece of swag, a green four-leaf clover button.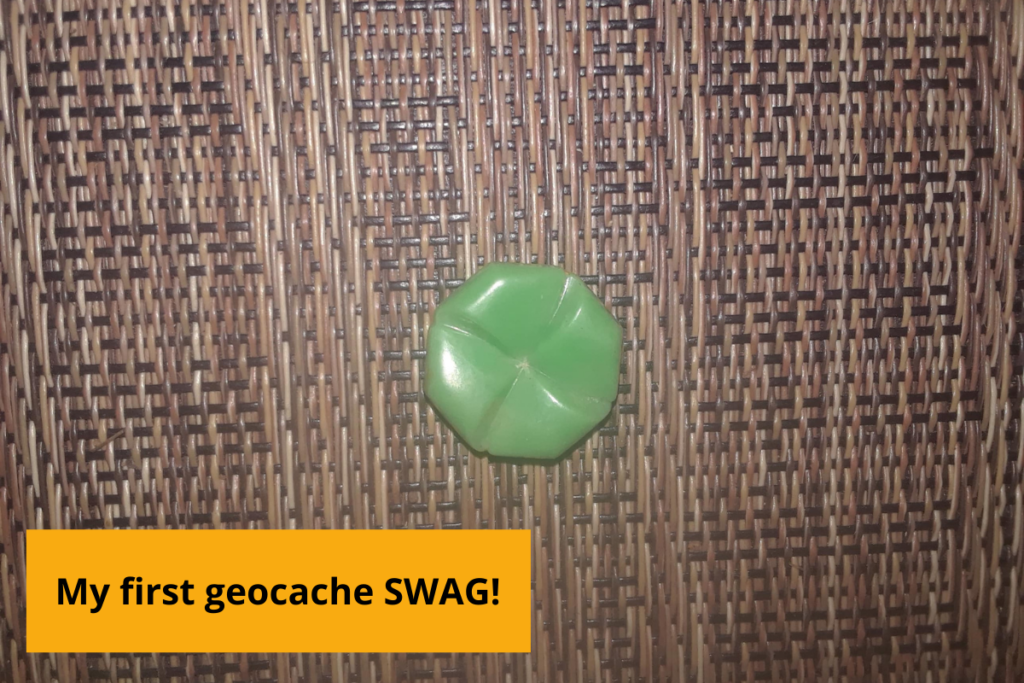 What is TFTC in Geocaching and Other Lingo
Geocachers use a variety of different acronyms and lingo to express themselves. The term TFTC is a common expression that means "Thanks For The Cache." These are left behind in the logbook, or on the cache messages.
More lingo:
What is a muggle in geocaching? In geocaching, a muggle is someone who is not in the know. Muggles have no idea what you're up to and may try to interfere with your hunt because they think you're up to no good. The term muggle was adopted from Harry Potter.
What does P&G mean in geocaching? P&G means Park & Grab. These are geocaches that are easy to find, you just park and grab. Also known as PNG. They are located in areas where you can park and quickly find your cache.
What does MTT mean in geocaching? MTT stands for Multi-Trunked Tree. Many geocaches are located in trees or near trees. This lets you know that the hiding place for the cache involves a multi-trunk tree.
There are many more acronyms and words used when it comes to geocaching, as you use the app and start to communicate with others you will become an expert in geotalk.
Geocache Definition
The definition of geocache uses the combination of two words. Geo, for the earth, or geography, and cache, which has multiple meanings. Geo represents the global aspect of the hobby, as well as the geography used in GPS signals.
Cache has two meanings, one being a French word, which means a place to hide items, such as gold, treasure, food. The other is a computer term, used for keeping memory, such as a memory cache.
Geocaches can be defined as an activity that hides items in different parts of the world, for the hunters to find.
Success is an act of exploration. That means the first thing you have to find is the unknown. Learning is searching; anything else is just waiting.

Dale Dauten
Conclusion
Geocaching is something that has interested me for over a decade. I've spent many hours with friends and family, on long drives, or just cruising the streets, finding caches, and learning about the history of the places we visit.
It's a great reason to get out of the house and have a little fun, while also getting some much-needed exercise. Geocaching is a safe family activity, as long as you keep children supervised, and use common sense. See our article for – Is Geocaching Safe.