There are several important accessories that you should think about when magnet fishing. You will definitely need to invest in a high-quality magnet fishing rope that is completely waterproof. Many of these ropes are crafted with high-quality materials like nylon and polyester.
In addition to the rope, you will need an adequate fishing magnet so that you can collect your findings and bring them above water. In this guide, we will take a look at some of the most important magnet fishing accessories and why they are important to you.
The first thing that you should invest in is a high-quality magnet fishing rope. These ropes are generally at least 50 feet in length and have a ton of strength built into their design. You are going to want to partner your rope with an effective neodymium magnet.
Several optional accessories might make your magnet fishing experience even better. In the sections below, we'll discuss several of these optional accessories and make recommendations on some of the best selections that will make your magnet fishing kit the very best.
#1 Top pick for Kits and Accessories River and Wharf
The River and Wharf magnet fishing kit is one of the best kits that I have purchased. When I first started I put together my own sets and realized after using a few different products that the full-on kit was just better.
This kit comes with a 1,100 lb pulling force magnet, a rope, carabiner, and thread locker, to make sure your hook is secured in the magnet. This is also a double-sided magnet, giving you more options for casting.
Pros
Full kit with everything you need
Strong magnet and rope
Easy on the pocket book
Cons
The carabiner was kind of cheap.
All of the products in this kit are good enough to get a beginner started in this awesome hobby. The carabiner was the cheapest part, but it's also the least expensive.
List of Magnet Fishing Accessories
Magnet fishing is a fun hobby and having the right tools for the job is one of the most important elements. Here is our list of all the magnet fishing accessories you may want to consider.
Neodymium magnet
Waterproof rope
Lock tight
Grappling hook
Secondary magnet
Secondary rope
Metal cleaning products
A bucket or tote for scraps
You can get by with just a magnet and rope, however, having a few extra components will make the hobby easier to maintain.
How Expensive Are Magnet Fishing Accessories?
You are probably wondering how much money you are going to have to spend to get started with magnet fishing. The good news is that several cost-effective magnet fishing accessories have high-quality design features.
You can probably find an effective magnet fishing rope for less than $40, depending on the design features, materials, and customization options. You can expect to spend about the same amount on a heavy-duty magnet fishing magnet.
There are also some magnet fishing starter kits that include everything that you need to get started. These magnet fishing kits generally include an adequate rope, magnet, and gloves. You might even be lucky enough to have a thread locker and carabiner included as well. 
Are Gloves Important for Magnet Fishing?
Safety is always one of the most important factors to consider when doing any activity outdoors. Magnet fishing is not an exception and gloves are a great way to improve your safety when participating in magnet fishing.
There's always a chance that you might be exposed to sharp unexpected objects when collecting objects from magnet fishing. By wearing gloves, you are reducing your chances of being injured by a sharp object that could cut your skin. You also want to avoid rope burns because that is an extremely common condition that magnet fishers might experience.
You should look for coated outdoor fishing gloves that are flexible and protective. There are also several specific magnet fishing gloves available on the market that are specifically designed for this purpose and are considered cut-proof. The good news is that these types of gloves are extremely affordable and they can prove to be a valuable accessory for you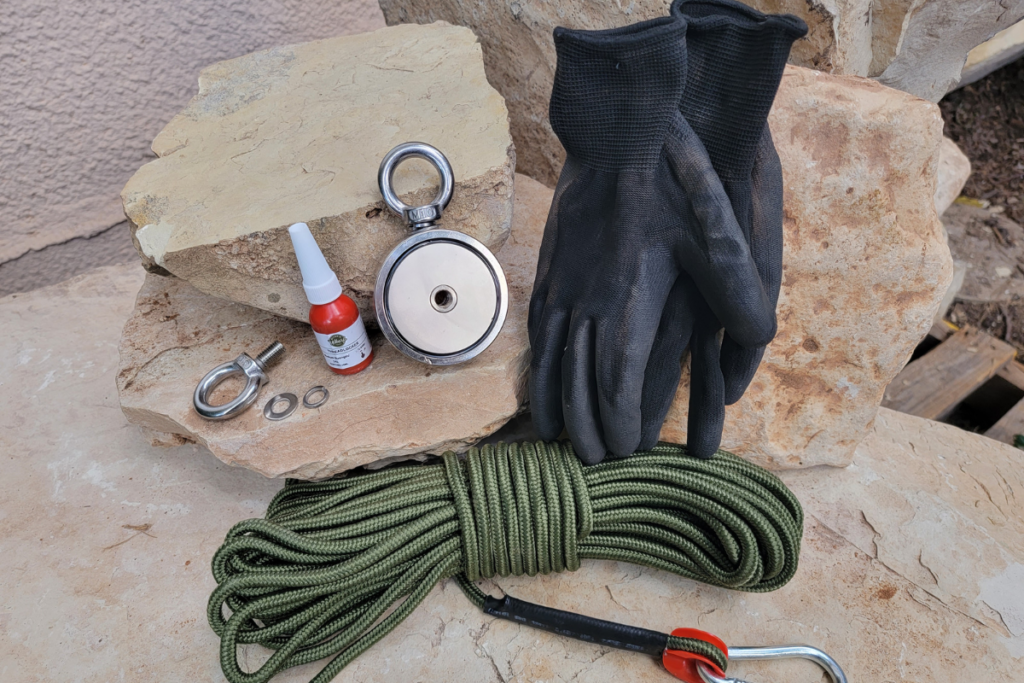 What Type of Rope is Best For Magnet Fishing?
A high-quality rope is certainly one of the several accessories that you will need when participating in magnet fishing. A high-quality rope will have a significant impact on your experience when magnet fishing. It is important to have a high-quality rope for magnet fishing because it will enhance your experience and make it much more efficient. You should try to understand some of the factors that play a role in magnet fishing and base your selection around those factors.
There are several excellent ropes available that are perfect for magnet fishing. You should specifically look for a waterproof polyester fishing rope or a nylon fishing rope. It's important to have at least 50 to 60 feet of length in your rope as well. Many brands offer varying rope sizes that have multiple lengths and diameters in their design.
See our article on Best Rope for Magnet Fishing
Best Starter Kits for Magnet Fishing
Here are a few high-quality starter kits that might be perfect for magnet fishing. These kits have just about everything that you need to get started. It's important to remember that many of these accessories will benefit you during your next magnet fishing adventure. Take a look at some of the pros and cons for each of these kits in the section below.
#2 – VNDUEEY Magnet Fishing Starter Kit
The VNDUEEY Magnet Fishing Starter Kits has nearly everything that you need to get started. This kit includes a nylon rope, carabiners, grappling hook, gloves, thread locker, cleaning accessories, and a case. 
Also included in the kit is an adequate fishing magnet that is capable of getting the job done. The high-quality neodymium magnet is rust-resistant and durable.
Pros
Includes All Accessories To Get Started with Magnet Fishing
High-Quality Magnet and Rope
Cost-Effective Price Range
Cons
Limited Customization Options
#3 – FLYMMY Magnet Fishing Starter Kit
The FLYMMY Magnet Fishing Starter Kit is another cost-effective product that can provide you with everything that you need to get started with magnet fishing for a great price. A double-sided fishing magnet is included along with a durable nylon rope cable. You will also receive a heavy-duty carabiner, grappling hook, and durable safety gloves. 
Pros
Affordable Magnet Fishing Starter Kit
Includes Custom Double Sided Fishing Magnet
Durable Design Quality for the Rope and Fishing Magnet
Cons
Limited Quantity Available
#4 – Muscular Magnetics Premium Magnet Fishing Kit
The final recommended starter kit for magnet fishing comes from Muscular Magnetics. This premium kit includes a double-sided fishing magnet and several additional accessories.
After buying this kit, you will have access to a high-quality nylon rope and carabiner. Also included is a pair of non-slip gloves and a grappling hook. This cost-effective kit is perfect for newcomers and will prepare individuals of all skill levels for magnet fishing.
Pros
Completely Cost-Effective Magnet Fishing Kit
Includes Nylon Safety Gloves
Extremely Durable Design Quality
Cons
Limited Customization Options
Conclusion
There are several important magnet fishing accessories to consider buying before you get started with magnet fishing. You will absolutely need to invest in a high-quality rope and magnet before starting. It's also a good idea to invest in a pair of safety gloves and several other of the accessories mentioned above to enhance your preparation and experience.