In a movie, the stereotypical place to bring a metal detector with you is the beach. Beaches have been known the world over for their buried treasure and valuable lost items. In real life, it might be a little tricky to figure out if metal detecting on the beach is actually allowed.
Metal detecting on beaches is regulated by the state and parks that maintain that property. In most situations, yes, metal detecting is allowed on beach properties. While there can be some restrictions, it is usually permitted if you follow any rules and regulations that are in place.
If you are going on a nice beach vacation, this might be the best time to break out the metal detector! Beaches are high-traffic areas and people from all over travel to lounge on the beach. Here is your guide to metal detecting on beach fronts.
Beach Metal Detecting Finds
Beaches are high-traffic areas, which makes them an awesome place for metal detecting. Because of the variety of items that can be found along the beach, you have the opportunity to find rare coins, valuable items, and in some cases, even pirate's treasure. Here is a list of some beach metal detecting finds.
Rare coins
Expensive Sunglasses
Phones
Jewelry
Money clips with paper money
Relics
Collectables
Pirate Treasure
Modern coins
You may not be lucky enough to find a pirate's lost hoard of gold, but you have a good chance of finding expensive items like sunglasses, jewelry, and even a metal money clip, holding paper money. You may also find junk items, such as soda cans, can tabs, junk, scrap metal, and more.
Can Tabs: These tabs are going to be found just about everywhere. People litter and have little regard for where they throw their garbage, so mostly everywhere you go you're going to find the pull tabs for soda cans.
Junk Items: Unfortunately, people throw a ton of junk into the ocean. Because of this, you may think you have found some large cache of treasure, only to find that it was some junk that someone threw away.
Scrap Metal: You are most likely going to find some kind of scrap metal. All types of scrap metal wash up on the beach, from pieces of boats, fishing weights, to large pieces of metal from some kind of boat dock or oil rig.
Sometimes what is junk to one person, is a treasure to another. So keep your eye out for interesting finds that appear to be just junk. Some people who metal detect, keep their scrap metal to sell once they have accumulated enough, which can help pay for gas or equipment used for the hobby.
See our article for Can You Make Money With a Metal Detector?
Do I Need Anything Specific?
Like any other hobby, there are specific things that you are going to need for metal detecting. Specifically, you're going to need all of your regular equipment, such as your metal detector, a pinpointer, as well as some special tools that are going to make it a lot easier for you on the beach.
Waterproof Detectors: Using a waterproof detector is going to make your life a lot easier when it comes down to metal detecting on a beach. These detectors can have varying ranges in price, some of them getting as expensive as $2,000. If you want to preserve the integrity of your metal detector, it is going to serve you well to buy a separate detector with a waterproof coil.
Sand Scoops: A sand scoop is an essential tool for metal detection on beaches. This scoop will allow you to stand up while scooping your treasures, protecting your back. This is a must-have tool!
Where Can I Metal Detect on the Beach?
Like any place, there are some specific places that you should pass over with your detector. There are a lot of specific spots on the beach, that will help you get better results.
Along Piers: Piers are a great place for you to search for valuables. People tend to populate around these areas, meaning that people are dropping things around here all of the time.
After Rain: After a rainstorm, a lot of the sand has been washed away. Once this happens, you can find a lot of items that have been buried under a lot of layers underneath the sand.
Tides: Whether it be high or low tide, both provide you different opportunities to find different items. You can explore the waterline during high tide and go out further during low tide. Either one presents you with the ability to find new types of treasures.
Swimming Areas: Swimming areas are perhaps the best place to search with your metal detector on the beach. Places where people populate with their towels, and coolers. These areas are going to have the most traffic and yield the most valuable items.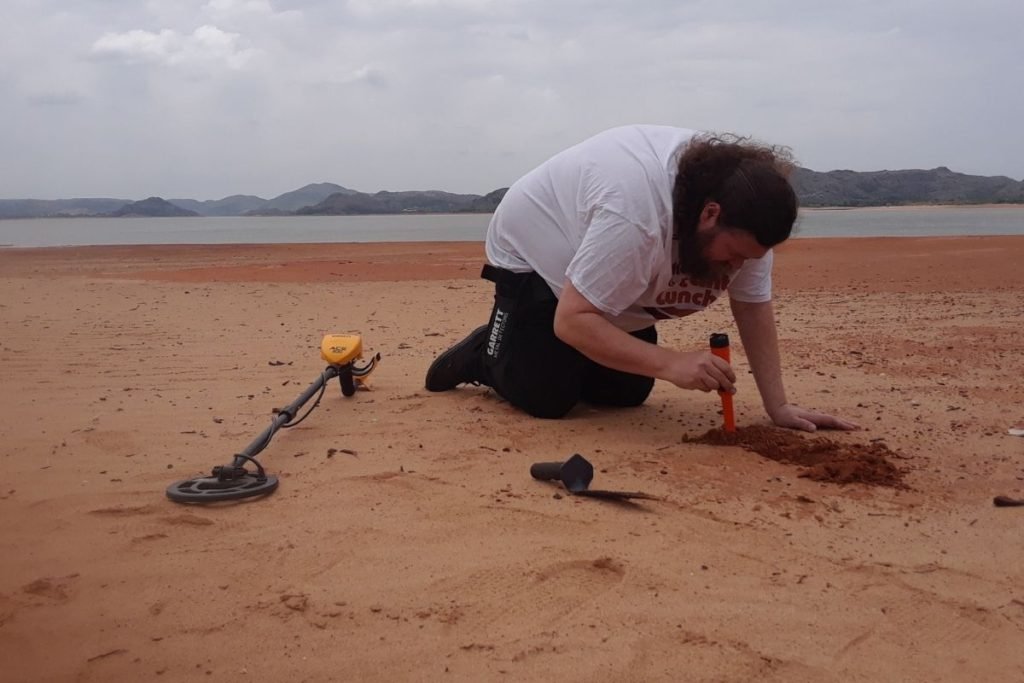 Are There Rules I Should Follow?
Like anything else, there are some guidelines that you should follow while metal detecting on the beach.
Pick up any trash that you have dug up. Beaches have a lot of problems with pollution and picking up the trash that you dig up, will help the environment.
Do not disturb the sand dunes by digging them up.
Respect any properties that are marked as private. You don't want to intrude on anyone else's space or get caught with a trespassing fine.
Refill all of your dig sites. This is common courtesy. You should not be leaving any trace of digging or excavating.
Respect beachgoers. They are there to enjoy themselves and relax, so you shouldn't bother them. When they leave, feel free to flock to that area but steer clear as long as they are there.
When Should I Go?
While you might think that it's smart to go during the peak time when people are there, it's smarter to go before or after people start arriving. This is in part, to not bother people, but it also is beneficial for you.
Instead of worrying about people around you and having people intruding on your space, you'll be able to roam freely and take any treasures that you find. Some people might not like that you're taking things if you go while it is heavily populated.
Some beaches also have rules that you can go between certain times, so stay wary of those types of regulations.
Do I Need a Permit?
Depending on where you go, you might need a permit. Usually, beaches will follow state laws on whether or not you need a permit. In some states, it is perfectly fine to walk around without a permit.
In other states, you could face legal action, such as a fine, if you do not abide by rules. Many state parks that have beaches, will have specific rules and permits. Always do your due diligence when metal detecting at beaches. Source.
Beach Metal Detecting Secrets
As someone who has metal detected on beaches for many years, I can tell you that there are a few secrets to finding the good stuff. Location is the most important factor to any place where you plan on metal detecting. Here are some of my official tips and secrets for metal detecting on the beach.
Choose the right beach location. There are tons of beaches, however, some beaches have a different class of people. Look for a beach that has the type of people who own nice jewelry, sunglasses, and other items of value. Exclusive resort beaches can be great for this.
Go to the beach multiple times per year. The best thing about a beach is that it replenishes itself with valuable items. If the weather allows for the beach to be enjoyed all year long, then you may find more items the next trip, since people have come and gone since your last visit.
Bring sunscreen and protect yourself from the sun. The sun can be extremely damaging to the skin, make sure that you are protected when you are hunting on the beach. Wear a hat that covers your neck, use sunscreen, and any other measures you can think of to keep safe.
Conclusion
If you find yourself with some spare time, pick up a metal detector and head to your nearest beach! You never know what types of items you might find on your adventures. Every item you find is considered a win, even if it's as small as a bottle cap, a fishing lure, or some other keepsake.